July 22, 2014
Chapter Six of Alon Tal's book Pollution in a Promised Land: An Environmental History of Israel. This chapter talks about the activities of the Nature Reserves Authority, mainly when Avraham Yoffe was in charge. I'm left with an impression that under his command, the new born authority secured an astounding fraction of Israeli land for reservation, albeit small and scattered. His successful campaign to stop the dirty habit of wildflower-picking remains the single legend that never repeats. Along with the anecdotes, for instance
walking into the kitchen of his host, opening the refrigerator, and pulling a leg off of a chicken without being invited,
or another, he hired two female scientists and threw out the grumbling male staffs saying
he had 'enough balls' already and wanted some brains,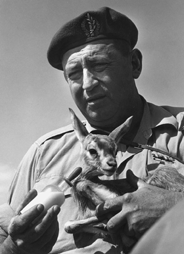 as well as Figure 13 which depicts a Yoffe in full army uniform, feeding a cute little baby herbivore (I'm guessing gazelle?) with a milk bottle, which easily reminds me of that famous picture of Ariel Sharon with a lamb slung over his shoulders – all these make me take a great liking to him.
However now, many weeks past, Claude Lanzmann's Pourquoi Israël that I watched much earlier somehow surfaced again. And I remember there was an interview with a retired military man who turned to wildlife advocacy. I opened the DVD package and found indeed the name Abraham Yoffe there. In the film, aside from telling us about his dream of rehabilitating the biblical animals in the land of Israel [1], he also offered his opinion on the political conflicts, in which he clearly aligned himself with the school of "Greater Israel". For Egypt, he said the Sinai
is not important to them, but important for us… It can act as a buffer zone, which is good for us, good for them and good for the world.
I can't decide if to say he was naive or if he was intentionally blind. As regard to the Palestinian problem, he said
We should learn to live together. and I'm ready to give them all rights as Israelis.
This is of course one basic underlying belief for any one-state solution advocate. But when questioned by the director "what about the Jewish state", pointing to the demographic problem, Yoffe said
I'm not afraid… You see when I was born in this country, the percentage between Jews and Arabs was 1 to 10… Today it's 3 Jews to 1 Arab. So why should I be afraid?
Well I don't really want to give an analytical comment on this bizarre statement. The point is, it is really interesting to get accounts of things and people from different places. Just as reading the Israeli environmental history gives me a unique perspective when looking at these less known but no less inspiring, exciting, heroic or heartbreaking deeds against the most familiar Israeli modern history, the association of different depictions of this person evokes a similar curious sentiment. As a result, Yoffe's image is now more complicated in my mind than before.
---
[1]. This biodiversification effort – the Hai Bar project – is also documented in the book. It is quite a subject of controversy. On one hand it collected a lot of endangered animals, opened up a safari as a tourist attraction, on the other hand some predators were confined in small areas, and the indigenousness of some of the species were questionable.